'Caroline, I think you missed a couple of things in your last working paper …'
'Oh, did I? Good, excellent opportunity for you to address it – like, in a blog post!'
'Oh dear, what did I get myself into …'
That is more or less how this post was born. Leonardo was savouring Caroline Hartnell and Andrew Milner's Philanthropy in Brazil paper and thought that it could use some extra spice.
Let us start off by stating that we agree wholeheartedly with the picture that is painted: in essence, the sector is not fulfilling its potential. Running the risk of butchering the piece, here are the key highlights for those who have not had the chance to read it yet:
Brazil is the world's 9th largest economy, and 8th in terms of the number of billionaires, but it ranks as 75th in CAF's 2017 World Giving Index.
Family foundations are beginning to get off the ground, and a small group of independent social justice funds and community philanthropy organizations have emerged in the last ten years.
A number of initiatives are under way to promote a culture of giving and engage a largely untapped well of individual donors.
Impact investing is well known but not developing as fast as its proponents had hoped.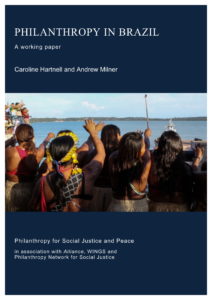 We'll stop there and save you from Leonardo's rant about unendowed-therefore-unindependent, execution-bent, education-centred corporate foundations, vertical-siloed, project-focused tax benefits, and a less-generous-than-it-could-be elite.
New forms of intermediary
But there is something else out there – reflecting concepts adapted from the financial sector. Somewhere between family, corporate and community foundations lie organizations like SITAWI Finance for Good, with its 'philanthropic fund management' offering, and Instituto Phi, providing something that could be called 'philanthropic brokerage'.
Each organization has mobilized some BRL20 million (around USD6 million) over the years and supported hundreds of organizations that, in turn, have reached hundreds of thousands of people. SITAWI also specializes in impact investing – it is the most active domestic impact investor, with over 30 deals (although these are mostly subsidized loans, which tend to be looked down on by the impact investing community).
For potential donors, such intermediaries (to continue using financial sector lingo) can provide benefits that counteract some of the challenges raised in the report: mistrust, and the lack of an easier connection between philanthropy and impact investing.
Since 2014, Instituto Phi has been helping individuals and companies to find and support projects they love. First, the staff at Phi identify a potential donor's favourite cause. Then they evaluate projects working in that area, performing a thorough review of their organizations and enriching their database of vetted NGOs. When donors approach Phi with a cause in their heart, Phi does the matchmaking, or the brokering.
SITAWI has a different approach – more akin to fund management – and has been around longer (10 years), but it has the same effect of lowering the barrier to giving. SITAWI sets up what are in effect donor advised funds, to which companies and families contribute, thus creating a philanthropic budget out of which they can conduct their philanthropy. The donor can choose between a 'philanthropic fund' (grants-in, grants-out) and a 'social/environmental recycling fund' (grants-in, loans-out, or other financial instruments that aim to recycle capital-out). What happens next depends on the transaction. In some cases SITAWI's staff will just carry out legal due diligence; in others they will do more, sometimes even going so far as building the case for investment before disbursing the funds.
There has also been some innovation in the funding of the organizations. Phi has become less dependent on the support of its co-founders by attracting direct supporters and charging corporations an intermediation fee. SITAWI has a mix of direct support, management fees, consulting projects and royalty fees from a for-profit sister company (which advises responsible investors). That allows both organizations to claim something like 'give us $1 (for direct support) and we can place $10 in causes we all should care about'.
The vision behind these new organizations
Luiza Serpa (one of the authors of this blog) was one of the founders of Instituto Phi, created with the idea of attracting donors to support social causes. Leonardo Letelier (the other author) created SITAWI, after some years at a global management consulting firm, with the idea that it would be good to have more different types of capital, or different types of financial instrument, available to create social impact.
Those views have led the organizations to co-lead, be part of, or support broader movements mentioned in Caroline and Andrew's paper such as DiaDeDoar (Day of Giving, the local version of Giving Tuesday) and Movimento por uma Cultura de Doação (Movement for a Giving Culture). SITAWI's longer trajectory has also allowed it to develop surveys and studies such as one on mergers in the social sector and another on fundraising effectiveness (soon to be published).
In a country like Brazil, in which giving is not exactly the norm, it is important to meet prospective donors where they are. The intermediation role does, in part, do that. It also opens the door to helping donors become more sophisticated in their approach and support 'harder' causes like human rights and social justice.
While there is no academic study that can answer questions such as 'How much of the capital disbursed is additional capital?' or 'How much of that is being disbursed more intelligently because of the intermediary's support?' there is a sense that organizations like SITAWI and Phi do provide value and generate impact.
Leonardo Letelier is the founder and CEO of SITAWI Finance for Good and Luiza Serpa is a co-founder and the executive director of Instituto Phi.